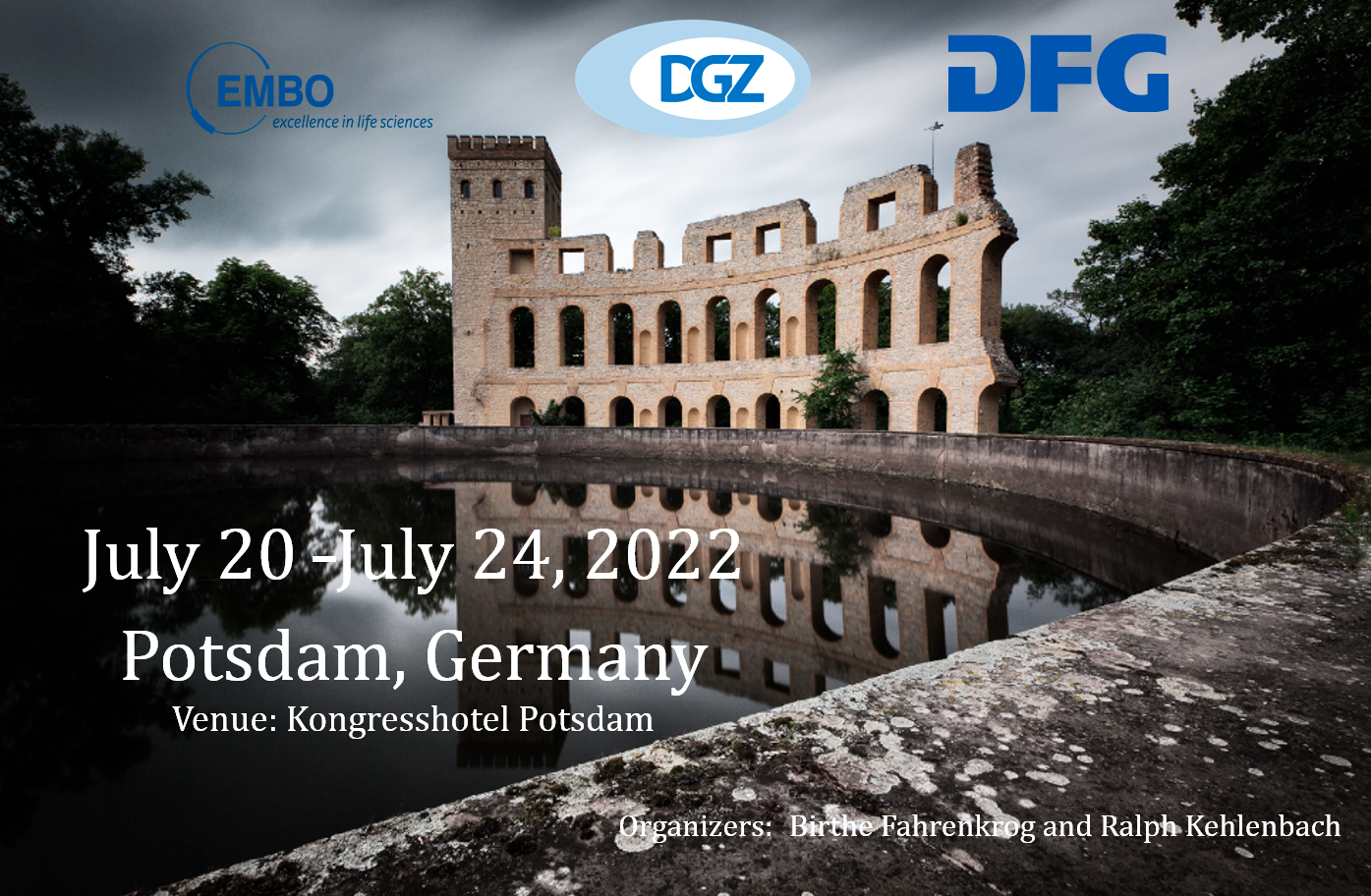 Programme
| | | | | |
| --- | --- | --- | --- | --- |
| Wed 20th | Thu 21st | Fri 22nd | Sat 23rd | Sun 24th |
| | Session 2 including coffee break | Session 5 including Coffee break | Session 8 including Coffee break | Departure |
| | Lunch | Lunch | Lunch | |
| Registration | Session 3 including coffee break | Session 6 including Coffee break | Session 9 including Coffee break | |
| Welcome | Session 4 | Session 7 | Session 10 | |
| Session 1 (ca. 6 pm) | Dinner | Dinner | Conference Dinner | |
| Dinner | | Poster Session | | |
List of invited speakers
(additional short talks will be selected from the abstracts)

Alwin Köhler
Abby Buchwalter
Andre Hoelz
Anita Corbett
Birthe Fahrenkrog
Christian Schlieker
David Jans
Dirk Görlich
Dorothee Dormann
Edward Lemke
Eric Schirmer
Jeff Rothstein
Karsten Weis
Larry Gerace
Liesbeth Veenhoff
Mark Field
Martin Beck
Mary Dasso
Maxi D'Angelo
Maya Capelson
Megan King
Mike Rout
Naoko Imamoto
Patrick Lusk
Ralph Kehlenbach
Roderick Lim
Rose Goodchild
Susan Gasser
Thomas Schwartz
Wendy Bickmore
Valerie Doye
Yaron Shav-Tal
Yuh Min Chook
Registration

Registration to the meeting is via international bank transfer. If this is not possible for you, please contact the organizer (rkehlen@gwdg.de) in advance. Registration will be closed on April 20. After April 20, registration will only be possible upon direct contact with the organizers.

Registration fees (€ 450) cover all conference costs, meals (except breakfast), attendance to sessions, coffee breaks, drinks during the poster session and the conference dinner.
Registration does NOT include accommodation. You have to book rooms directly at the hotel via the link below. Prices per person (including breakfast) are 89 € (single room) or 56 € (double room) per night. When you book a double room, you will be asked for the name of your roommate. Please register for the meeting and book the hotel on the same day, if possible, as we might be able to accommodate only a limited number of participants (see "COVID-19").
Hotel booking (required)

Please book your hotel room on the day of registration and use the following link:
https://onepagebooking.com/hukg/allotments/8330?allotmentcode=nucleus&lang=en
Accompanying person

Please let us know (rkehlen@gwdg.de) if you are accompanied by someone who is not registering. We will arrange for meals (lunch and dinner) at the venue, if you wish.
Payment

After registration, you will receive an invoice from the DGZ with details for payment.
Cancellation

Cancellation and/or refund requests must be submitted in writing to Ralph Kehlenbach (rkehlen@gwdg.de). Cancellations of your hotel room has to be done separately!
Cancellations received until April 20, will be refunded with a deduction of € 50. From April 20 until May 20 there will be a refund of 50%. From May 20 on, there will be no refund. Of course, we will refund the registration fees in case the meeting has to be cancelled because of government regulations (see "COVID-19")
COVID-19

Organizing this meeting turns out to be more challenging compared to previous years. A number of incalculable factors remain:
we cannot predict how the pandemic will develop until July 2022.
we cannot predict if there will be new or additional state regulations (in Germany or in your home country, where travelling might be restricted).
we cannot predict how many of you will register in the first place.
Therefore, it is important that you register as early as possible. Based on our previous meetings, we expect about 100-120 participants and we will accept registrations on a first-come, first-serve basis. The deadline is April 20, but earlier registrations would be very welcome to facilitate planning! If conditions allow, we could have more participants, but there is no guarantee…
Furthermore, the level of meeting-specific regulations is not clear at this point. We will definitely ask for a valid vaccination certificate. Possibly, a negative corona test will be required at the day of arrival. Additional rules may apply, so that we can guarantee a safe meeting.
Abstracts

Please submit your abstract no later than April 20, 2022
Abstracts
To submit your abstracts, please fill out all fields. Abstracts should not exceed 2000 characters.
Talks
Short talks (15-20 minutes including discussion) will be selected from the abstracts.
Posters
The posters should not be larger than 100 cm (width) x 130 cm (hight).
Venue

The meeting will take place at the Kongresshotel Potsdam, which is beautifully located at the Lake Templin (note that it is NOT the same hotel as in 2014 and 2018!). The local train station, Potsdam-Pirschheide, is within walking distance (0.5 km).
Kongresshotel Potsdam
Am Luftschiffhafen 1
D-14471 Potsdam
Germany
https://www.kongresshotel-potsdam.com
Information about the city of Potsdam: http://en.wikipedia.org/wiki/Potsdam
Information on public transport: https://www.vbb.de/en/
https://www.swp-potsdam.de/de/verkehr/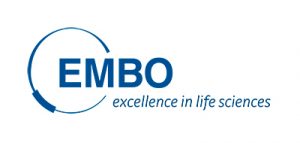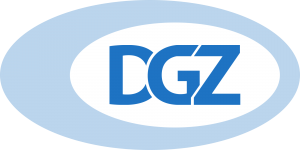 Birthe Fahrenkrog, University of Basel: Birthe.Fahrenkrog@unibas.ch
Ralph Kehlenbach, University of Göttingen: rkehlen@gwdg.de